After working as a carpenter for several years, Lawrence Zechmeister thought he'd built everything- until 1979,when someone asked him to restore a cupola atop a historic barn. "I said, 'Sure, but I have just one question: What the heck is a cupola?
He soon learned that cupolas have been perched atop barns for centuries, venting away heat and stale air through louvered sides.Their close relative, the widow's walk, gave wives of seafarers a place to watch ships returning home. Today , of course, they're also an icon of traditional residential architecture, adorning house and garage rooftops, though only sometimes performing their original function.
When passersby saw what Zechmeister did on that barn project, he started getting calls from home owners wanting to give their houses a crowning touch. Eventually, Zechmeister, now 45, dropped carpentry altogether and taught himself how to make everything from the cupola's arched windows to its shaped copper roof and even the weather vane that often twirls on top. For inspiration, he searches out and sketches historic houses and incorporates details from them into his designs.
Building one of his eight-sided creations can take a month or more, after which Zechmeister always does the installation, not wanting to leave the critical details of waterproofing to anyone else. "Once it's up, somebody always seems to bring out a bottle of champagne," he says. "People really love these things."
Some owners take their passion to extremes. Zechmeister knows of several who took their cupolas with them when they moved. And before two of his customers headed for the great cupola in the sky, they instructed in their wills to have their ashes stored in the ones they left on Earth. "That's the way it is with cupolas," says Zechmeister. "One day you don't what they are; the next day they encompass your whole life."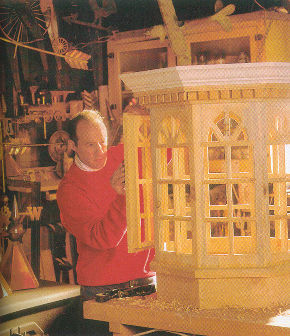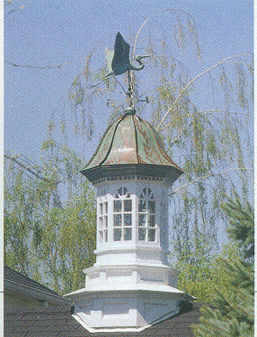 PHOTOGRAPH ON PAGE 43 of 'THIS OLD HOUSE'-July/Aug. Issue 1999
Lawrence Zechmeister makes everything by hand, even the lumber, which he cuts from white cedar and white pine logs and dries in his shop. To get a completed cupola up on the roof, Zechmeister used to strap the whole unit on his back and climb a ladder, which, he says, "nearly killed me a couple of times." Now he lightens his load by building the structure in three pieces that he can haul up one at a time. Installed, his cupolas cost from $1,600 for a two-foot tall unit to $10,000 and up for one that's bigger and more elaborate. "I never build the same one twice," says Zechmeister. "What would be the thrill in that?'